Rees Jones, Inc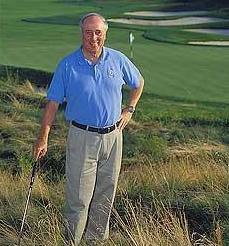 Rees Jones was born into the game of golf. He learned to play as a youngster and competed as a junior golfer in college and while in the army. He grew up traveling with his family to golf courses all over the world and worked in the summers for his father, renowned golf course architect Robert Trent Jones. After college at Yale and graduate studies at Harvard, he went to work in 1964 as a principal in Robert Trent Jones, Inc. Ten years later he founded his own design firm, Rees Jones, Inc., headquartered in his hometown of Montclair, New Jersey.
In the last 30 years, Rees has become renowned in his own right, designing more than 100 courses primarily in the United States. He is also well-known for his redesign of courses in preparation for major championships, so much so that his nickname is "The Open Doctor." His remodeling skills have been applied to seven U.S. Open venues, six PGA courses, three Ryder Cup sites, and one Walker Cup redo, plus an original design for the 2001 Walker Cup. His redesign of East Lake Golf Club has become the permanent site of the PGA Tour's "Tour Championship."
Among his notable original designs are Nantucket Golf Club, Atlantic Golf Club, The Golf Club at Briar's Creek, RedStick Golf Club, Ocean Forest Golf Club, Quintero Golf and Country Club, The Bridge, and Cascata Golf Course.
Rees has been recognized many times for his contributions to the game. His awards include the 1998 Metropolitan Golf Association Distinguished Service Award, the 2002 Metropolitan Golf Writers Distinguished Service Award, Golf World Magazine's 1995 Golf Architect of the Year, The Golf Course Superintendents Association of America's Old Tom Morris Award in 2004, two architectural awards from the International Network of Golf, and the 2000 Robert Morris Award of the Welsh Society of Philadelphia. In addition, since its inception Rees has been included on Golf Digest Magazine's list of the top five architects (currently, number two).